Do you want to get your health back on track but don't know which activity to choose? 
If you haven't practiced in years, start with a moderate and adapted activity.
Every activity has its benefits
Walking to gently work all the muscles of the body and prevent osteoporosis. Gentle walking, brisk walking, Nordic walking (with two sticks), hiking, etc. are physical activities accessible to all. 
The race to work the breath, improve blood circulation and preserve muscle melting. Like walking, but at a larger scale, this helps to fight osteoporosis by increasing bone density.
Aquagym to maintain muscle and respiratory tone.
Swimming to work endurance and all the muscles of the body while preserving its joints.
The bike, good for the heart and the joints.
The gym (Pilates) for a gentle muscle building.
Yoga for balance, flexibility and relaxation. It also reduces insomnia, stabilizes blood pressure and reduces pain associated with osteoarthritis.
The Tai Chi Chuang to tone, work his breathing and soften the body gently.
Dance for balance, coordination, breath and memory.
Archery to work on its strength, concentration and coordination…
Golf that has the advantage of combining the benefits of walking with work on coordination and concentration.
To make your choice, two tips:
The activity that's right for you is the one you love!And if you don't know which one to choose, try several: you'll sort it out later!
The activity that suits you is the one you can do, that is, that is, that corresponds to your physical capacity today.
What precautions should be taken to get back to physical activity?
Health check-up
If you haven't been physically or in sports for years, it's important to make an appointment with your gp for a check-up, including:
A heart check-up including an electrocardiogram and a stress test to make sure your heart is perfectly fine
A bone and joint balance
Depending on your assessment, your doctor can guide you to choose the activity that will be best.
Do you have a sore joint? Are you overweight?It is better to avoid intensive walking, dancing or golf and prefer softer sports for joints such as swimming, aquagym, cycling or Tai Chi Chuang.
Suitable sports equipment
Most sports require equipment. Choose it seriously so that it fits your body shape and level perfectly. To do this, do not hesitate to ask a specialist of the store visited but also your coach within the club or association where you practice the activity.
Food and hydration
Before each activity session, don't forget to drink. Do not start any activities in the morning on an emptying. A balanced diet, especially carbohydrates, is recommended.
During the session, don't forget to keep hydrating.
After the session: Drink and eat something if you feel weak.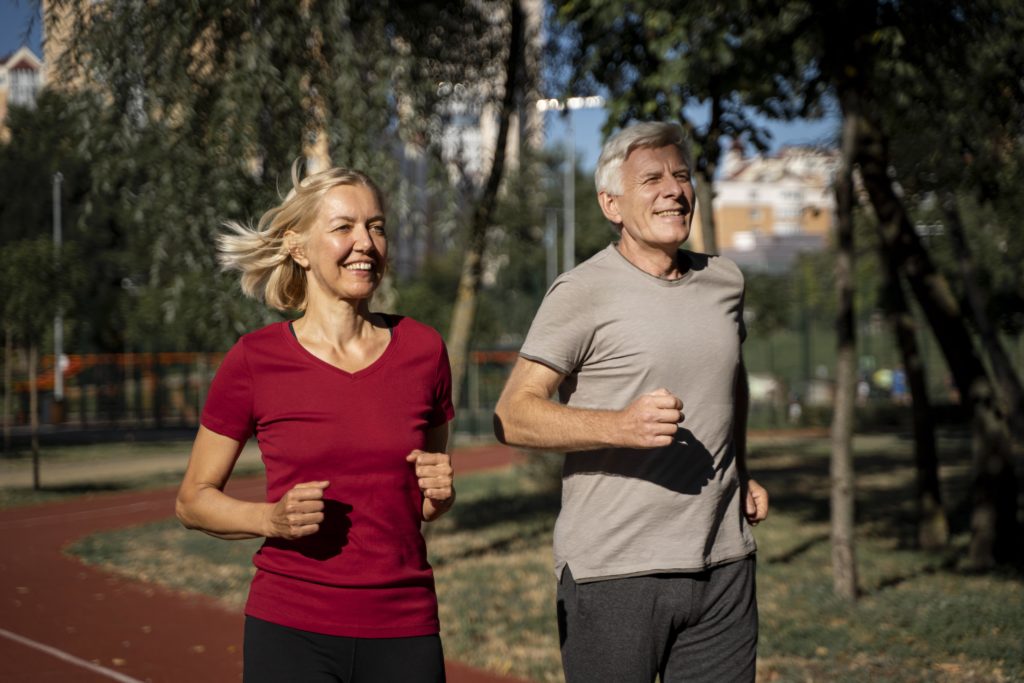 Signs that should alert you
See your doctor quickly if you:
Pain in the chest or abnormal shortness of breath from exercise.
Heart palpitations occurring during exercise or just after exercise.
Discomfort occurring at the effort or just after the effort.
7 good reasons to choose age IMPULSE's solution
MET-Impulse democratizes The laboratory method of Prof. Billat, which has a proven track record for high-level athletes, but also for young and senior athletes; Robert Marchand, amateur cyclist, world record holder at 105 years old, being the most striking example. The method is based on 200 international publications and 30 years of work by Professor Billat.
The solution is suitable for as many people as possible (walking and/or running) and can be practiced with another activity or sport. Thanks to our Review, (accessible for free from the first use) choosing what is best between Walking or Running will be a breeze.
It is financially available to as many people as possible.
It provides a characterization of the state of form, including VO2max, a synthetic value that encompasses the circulatory, respiratory and musculoskeletal systems. Existing solutions give indications such as the number of steps, heart rate… that do not give a synthesis of physical fitness and its evolution.
The training sessions are personalized, evolve with the user's state of fitness, integrated into daily life (3 times 30 minutes per week), even "breakable" in a busy schedule, and are aligned with WHO recommendations.
The workouts are based on the feeling of effort, on listening to oneself and pleasure. The method takes the opposite of those based on performance. It allows the user to understand that improving his physical condition is not a permanent fight against the barrier of cardio-respiratory limits but an understanding and adaptation of the governance of his state of fitness.
The solution injects humans through debiefings from a coach, who listens to you, interprets your results and exchanges with you on your expectations and develops with you the steps to achieve your goals.
https://www.mma.fr/zeroblabla/comment-reprendre-sport-retraite.html