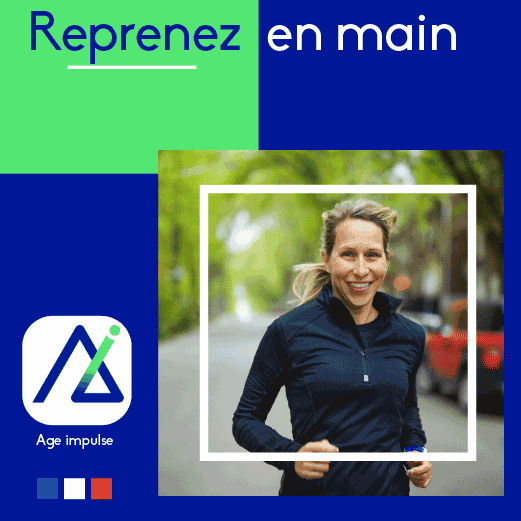 Be the first to know when the solution is launched!
Age Impulse takes up the challenge of democratizing Professor Billat's laboratory method and develops a mobile digital health solution (Mobile Application – Artificial Intelligence) accessible to as many people as possible.
The application provides an accurate characterization of your fitness, offers you personalized workouts, varied, integrated into your daily life and "breakable" in a busy schedule (30 minutes, 3 times a week). They are based on your perception of effort, with the injection of the human via advice from coaches.
Two scientific studies and multiple field tests were conducted over many months for the development of mobile digital solution algorithms.
During laboratory tests and field studies, it takes two hours to equip each person and prepare them for a balance sheet that allows the characterization of their shape. The Balance Sheet then lasts about thirty minutes. Reference and expensive scientific equipment is used that requires competent human resources and time to calibrate sensors, properly equip the user and exploit the results.
With the Age Impulse App, just download it to your smartphone, provide some information to help us get to know you and you're ready to evaluate your fitness level!
The balance lasts 14 minutes: You choose your activity, walk or run, and you follow your perception of effort. You will be guided by audio messages and/or on the screen. Following this assessment, the application characterizes your state of form by 4 parameters with explanations.
The perception of stress is used as a training instruction which places the brain at the center of the regulation of exercise. The interest is to be able to anticipate and adapt instantly and continuously in order to accomplish the required effort, without reaching the break in the physiological balance of your body.
In addition, recent studies have shown that the physiological responses associated with an exercise perception instruction are reproducible. The user is thus able to associate a stress perception instruction with appropriate cardio-respiratory resources without this leading to the constraint, allowing him to adapt even better the training (already personalized) to his physical condition.
The VO2Max is one of those parameters that you can now measure as simply as the heart rate. It is the most accurate indicator of active life expectancy because it incorporates cardiovascular, respiratory and muscle limitations. Know the number of steps per day, the heart rate, the number of hours of sleep… does not give a synthetic indicator of our state of form and its evolution.
Following this review, we offer you to make a free telephone appointment with one of our coaches who will read your profile and explain your results. The coach will give you recommendations in health, physical activities or sport, arguing about your strengths, the points to improve, the goals you can achieve, the steps to achieve it and the most tangible it will bring to your life!
You can then subscribe, with or without a 12-month commitment, and choose a formula with a monthly debriefing of the included coach or à la carte.
Benefits from 30 years of scientific experience and state-of-th
e-art solution, made accessible to as many people as possible

Listen to your feelings and treat yoursel
f easily to your daily daily life with personalized and scalable balance sheets and trainings. Let yourself be guided by your perception of the effort to progress safely

Improves your VO
2max It's a physiological parameter that you can now measure as simply as heart rate, number of steps… It represents with more relevance, the synthesis of your state of cardiovascular, respiratory and musculoskeletal form

Take advantage of the advice of
a coachActivating the reward circuit and stimulating you or relying on the strength of habit and reassuring you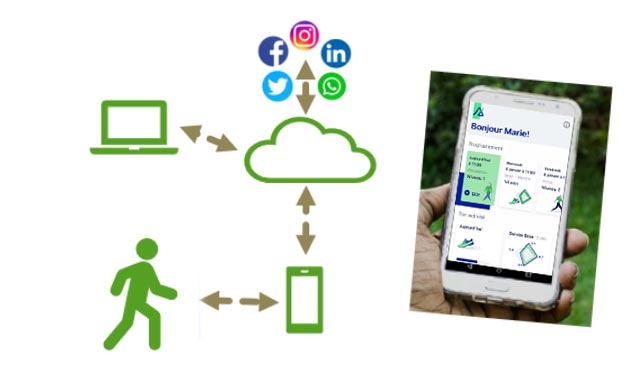 The Ai-driven Age Impulse Application is Preventive, Personalized, Participatory, Protecting Your Privacy, Guiding You along the Shape Course, with one step closer to Prediction.
The solution, although individual, is human-centered with the intervention of coaches. It allows you to regain control of your health, your fitness, to regain your sensations, and thus be confident to participate in possible group sessions. It allows coaches to objectively form homogeneous groups, based on the metrics of the balance sheets.
For 30 years, Professor Véronique Billat has been developing scientific and field models, in life and training situations, methods of determining and improving VO2max, for athletes, athletes, young and senior. Age Impulse allows you to benefit from this experience in your daily life and to build up a reserve of energy power, guaranteeing endurance and comfort of life for your sports and/or domestic activities.
Dr. Molinari Claire Influences control variables on the emergence of physiological paradigms of running performance. 2019.http://www.theses.fr/2019SACLE020 (accessed 25 Feb 2021). 
Dr. Molinari Claire, Palacin F, Poinsard L, et al. Determination of Submaximal and Maximal Training Zones From a 3-Stage, Variable-Duration, Perceptually Regulated Track Test. Int J Sports Physiol Perform 2020;:1-9. doi:10.1123/ijspp.2019-0423